Subsidence and Insurance Work

We have extensive experience dealing with subsidence damaged properties in the North London Area having worked previously for both loss adjusters and insurers.

We also manage new claims form inception to completion, liaising with loss adjusters and insurers during the claim process to ensure that you, the policyholder obtains their full entitlement under the claim.

In Gravel (non cohesive) soils and silts subsidence is usually caused by washing out of fine material which causes reduction in volume and downward movement of the foundations. Excessive moisture in gravels can cause softening to occur. Drain leakages are a common cause of subsidence on non cohesive soils. In clay soils subsidence is usually associated with volumetric change caused by changes in moisture content. Normal season variations in moisture content may give rise to subsidence to foundations at a depth of less than 1.0m in the South of England. Below this depth nearby trees will have an effect on the moisture content (and volume) of the soils. During the summer months when trees moisture demand is at its highest (and rainfall at its lowest) the trees extract moisture from the soil causing it to shrink. During the wetter winter months when the trees are more or less dormant, the moisture content increases causing the soil to swell. This is usually referred to as seasonal movement. Maximum cracking due to clay shrinkage usually occurs in early autumn period (September to October). Most buildings will accommodate normal seasonal movement and this will not lead to structural damage. It is only therefore if during a particularly dry summer or if there are large trees nearby that the moisture content changes can lead to structural damage. The main factors therefore to consider with clay shrinkage subsidence are tree species, height and distance from the property, foundation type, depth, soil characteristics and weather conditions.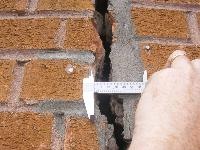 Crack monitoring underway. Note Demec studs fixed either side of the cracking. Cracks are monitored approximately every 2 months to record any changes over a fixed period of time, usually 1 year for a clay shrinkage subsidence claim.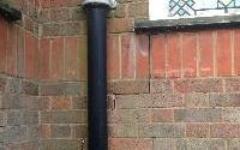 Typical subsidence cracking for an existing claim.